Time for Testimonials: Hear from Acorn's Happy Customers
Acorn Stairlifts has earned its amazing reputation not only from its high demand, shipping stairlifts to over 80 countries worldwide, but through its collection of awards, accreditations, and testimonials from satisfied Acorn customers. From awards earned for our high-quality stairlifts, to our quick and knowledgeable installers always ready for any stairlift repairs, to our superior customer service, Acorn has been recognised and praised for all of the unique qualities that make Acorn Stairlifts stand out from its competitors but don't just take it from us. Hear from real, satisfied Acorn customers who explain why Acorn Stairlifts is the world's number one stairlift provider.
Fast and Friendly Stairlift Customer Service
"What a pleasure to deal with these guys! From my initial phone call to their offices right up to their staff member leaving my premises, I was fantastically impressed with their professional service! I highly recommend Acorn!"
-Mr. Stephen Venter, George, Western Cape
"Good day, I just want to say the service and professionalism that you and your team of installers provide is absolutely outstanding in these times."
-Mr. Philip Whaits, Ramsgate, KZN
"We would like to thank Acorn Stairlifts for their super service from our first enquiry to the installation of the stairlift. Service like you offered is very rare nowadays. We would not hesitate to recommend your company to anyone who has a need for your product. Thanking you once more."
-Joe & Pat Erasmus - Durban
Quick, Mess-free Stairlifts South Africa Installation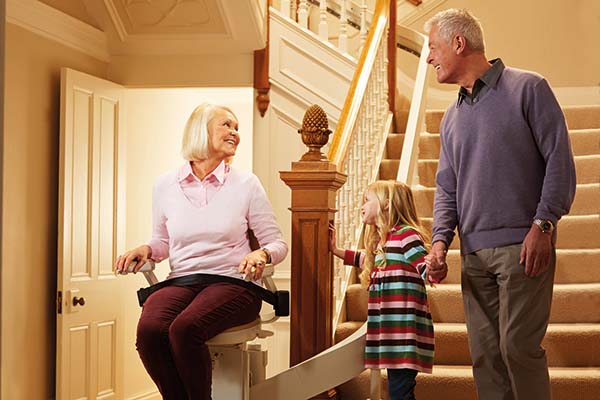 "We would like to thank you and your team for such an amazing job. The service and job rendered by Jonathan was outstanding. We were amazed by the manner in which he went about his job, absolutely professional, he was very considerate and went to the extent of tidying up and cleaning whilst doing the installation. This level of service and customer centricity is a rare find these days and we would like to express our sincere gratitude. The whole experience, from the time that we had started engaging with you, to the final step of the installation, had surpassed our expectations. Thank you, we would certainly recommend your company."
-Mr. & Mrs. Moonapar , Morningside, Gauteng
"Ashton is the most fantastic and professional Engineer that we have had the pleasure of meeting and for the installation of our stair lift. Ashton you ROCK and I hope that you go from strength to strength with Acorn."
-Pieter & Judy, Hermanus, Western Cape
"I would just like to mention that this was really a wonderful installation, Jonathan left the place spotless and was dead on time with the installation. Mr. Cunningham is more than happy with the stairlift and aesthetically it is very pleasing. We were also very happy that you kept within your promised time of delivery."
-Mrs. Annemarie Cunningham, Waterkloof, Pretoria
Life-Changing Lifts Well-worth the Money
"Hi Salome. Thank you for the wonderful service I received from you and Jonathan. He is definitely an asset to your company and gives your company a good name. What a pleasure to deal with him. I'm so pleased I decided to install the lift in my home which I should have done a lot earlier. I can go up and down the stairs with the knowledge that I'm not at risk of falling."
-Joan Schiffman, Gauteng
"I would just like to thank Acorn Stairlifts for a wonderful job done at my home. The staff, Yolande, Mark & Desmond. I'm marketing your product to all my family and friends. Thanks a million!!! My wife and family have been blessed today."
-Garnard Harvey, Newlands East, Durban
Get the Exceptional Stairlift Experience and Choose Acorn Stairlifts
Now that you've heard real-life examples of how Acorn Stairlifts continues to lift peoples' lives every day, you can make the life-changing decision to trust the testimonials and become one of Acorn's countless happy customers. Click here to get your free, no-obligation quote and home survey to get started on securing your dream stairlift.